Sharon, Registered Nurse – RN DIV 1
Sharon settled in Maryborough from NSW in 1984 with her husband. Together they have five adult children.
Since graduating from USQ Hervey Bay in 2012 and obtaining her license with the Australian Practitioners Regulation Agency (AHPRA), Sharon has worked extensively in GP practice.
Sharon's interests include Chronic Disease Management, Surgical procedures and Women's health, while she enjoys softball, yoga and reading in her leisure time.
Adey, Enrolled Nurse – EEN DIV 2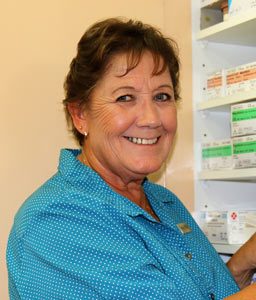 A veteran nurse of 46 years, Adey graduated from the Austin Hospital in Melbourne in 1974 and is licensed with the Australian Practitioners Regulation Agency (AHPRA).
Her experience spans Spinal ICU & rehab, Accident and Emergency, Medical, Surgical units as well as Blue Care Community nursing.
Adey has also been a coordinator of a Primary Health Care Clinic for homeless & substance addicts and worked within Aged Care dementia units.
Adey loves working in the practice is well qualified to assist the GP's with our Chronic Disease Management services.
Jo, Registered Nurse – RN DIV 1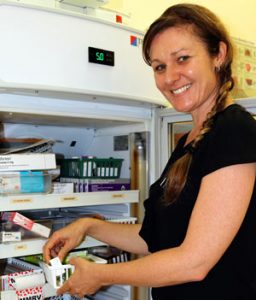 Originally from New Zealand, Jo moved to Australia in 1989 and is very experienced in general practice work.
Licensed with the Australian Practitioners Regulation Agency (AHPRA), she graduated from Central Qld University in 1994 and after working in our practice for 7 years, is now at the Maryborough Hospital.
Jo remains an integral part of our nursing support by working with us on a casual basis.
Receptionists and Administration staff

The five receptionists at Francis Family Doctors, Debbie, Rebecca, Vanessa, Kath and Linda are highly valued members of our team.  Their skills and knowledge range from over 35 years' experience in the general practice industry.
These ladies play a key role in the practice, arranging and talking with patients to identify the best type of appointments, keeping the doctors in line with plenty of humour and ensuring each patients' needs are met during their visit to the practice. They also manage the mail & scanning, aged care facilities and a myriad of other duties which is imperative in a busy practice such as ours.
Nicole works in the office ensuring the administrative activities at the practice run efficiently.
Rachel, Practice Manager
Rachel has extensive experience & a wealth of information, having worked in this practice for over 19 years and in General Practice since 1993. Rach is highly qualified with a Diploma in Practice Management and manages the day to day operations including human resources, managing processes, budgets & reporting, accreditation, quality and patient services.
Rachel ensures the effective & smooth running of the practice and loves the challenge of achieving this. Rachel takes great pride in the practice and its experienced team who make it such a well-respected health care centre.